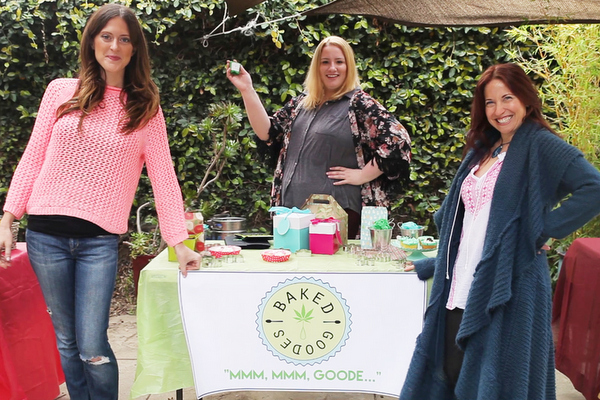 Baked Goodes is about two Cousins Julie and Angela Goode who seek to revitalize their withering bakery business by catering to 420-friendly clientele. They face trials and tribulations as their new business model is technically illegal and, according to Julie, morally corrupt. Their old school stoner neighbor Jan (pronounced JOHN) acts as guide into the world of marijuana and also offers up nuggets of real world wisdom along the way.
Watch The Entire Season 1 of Baked Goodes
As they build their business, the cousins must face the manipulative Landlord's Daughter, threats to cast them out of their market, and costly mishaps in trying to please LA's A-list celebrities. Are marijuana edibles the answer to salvaging their business? Will the cousins be able to balance their work and social lives? What does "success" even look like?!
Why r #grandpa and #grandma so #freakedout? #cbd #weed #brownies! Watch the #4minute #episode here! https://t.co/BBMWIRv8C6 #Like pic.twitter.com/ZTR7Q05TVX

— Bakedgoodes (@Baked_Goodes) April 29, 2017
Baked Goodes is written, directed and produced by five women, all brought together by the Los Angeles comedy community. The web series employed an 80% female crew and a diverse cast of nearly 60 actors. The web series seeks to explore the themes of women in business, familial relationships, religion, romance and, of course, the exciting and ever-evolving business of "marijuana" – with dose of wit and heart.
Cast: Molly Reynolds, Mackenzie Horras, Caryn Ruby
Writer: Erin Dooley, Anna Mehle, Caryn Ruby, Mackenzie Horras, Molly Reynolds
Director: Anna Mehle
Producer: Erin Dooley, Anna Mehle, Caryn Ruby, Mackenzie Horras, Molly Reynolds
Status: Post Production
Duration: 13 episodes, 3-5 minutes each
Release Date: 2017