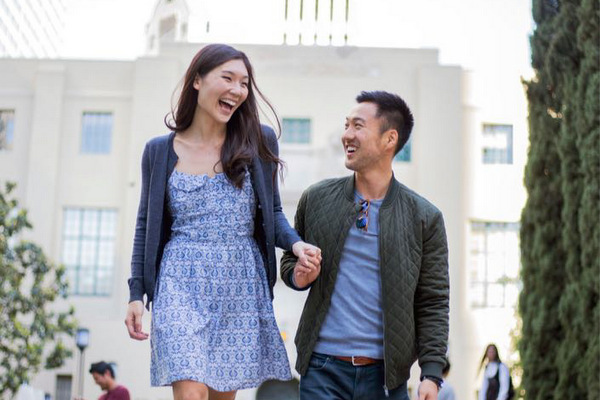 KAT LOVES LA is an original romantic comedy web series created by Korean American actress and producer Paget Kagy. KAT LOVES LA, follows a struggling Korean American actress Kat Park on her journey to find romance, career success and life fulfillment against the multicultural landscape of Los Angeles, while finding the balance between following her heart and her head. KAT LOVES LA has reached over 90K+ views across the YouTube channel.
KAT LOVES LA (NEW Original Romantic Comedy) – Ep 6 "Just Because I Can't Touch" SUBSCRIBE!!
KAT LOVES LA has been hailed by its audience as
"So intense. Love the chemistry between the characters. We want more!"
"Love this series so far. In my opinion, far better than some of the stuff on the air."
'Wow, this series does NOT shy around or weakly dismiss the elephant in the room…The dialogue.
An amazing team was assembled to put out KAT LOVES LA. David Marciano ("Homeland", "Bosch", "The Shield", etc) directs, and Scott Lautanen ("CSI: Miami") is Supervising Producer. Starring is Paget Kagy ("Criminal Minds", "Scandal) as Kat Park, new-comer Matthew Um as Andrew Wang, with supporting actors Ilana Guralnik ("Brooklyn Nine-Nine", "Veep"), Mauricio Sanchez ("Date Night"), and Kenny Leu ("Long Road Home").
Synopsis: Jobless, newly-single, and facing a paralyzing turning-30 crisis, Korean American actress Kat Park, is in a deep funk. To make matters worse, she's set up on a blind date with Korean adoptee Andrew Roberts, which ends horribly wrong. But through serendipity and mishaps, the two find commonality and companionship, despite their initial prejudices. When Andrew leaves to Korea to find his biological parents, Kat's world is turned upside down once again, until she meets Ben Lee, a nice, responsible dentist whom she falls for. Kat's left with a decision: should she follow her heart, or her head?
"I wanted to prove that Asian Americans could lead a romantic comedy that wasn't set in an Asian-only world. It was more realistic and relatable to have them exist in a multicultural world where they are forced to deal with their identities as Asian Americans. But ultimately, I wanted audiences from all cultures to be able to identify with the characters, no matter their background because the themes expressed are universal." says Paget Kagy
After launching a successful Indiegogo campaign that raised over 200% their initial goal, she assembled an amazing team who, through sheer passion and hard work, completed filming the first season in December 2017.
Follow KAT LOVES LA on social media: Facebook | Twitter | KatLovesLA
---
Creator: Paget Kagy
Director: David Marciano
Writer: Paget Kagy
Producer: Paget Kagy
Supervising Producer: Scott Lautanen
Director of Photography: Joseph Ascioti
Editor: Paget Kagy & Scott Lautanen
Music: MJ Mynarski
Production Sound Mixer: Alan H. Chang
Re-recording Mixer: Alan H. Chang
Executive Producers: David Lieu, Atasha Mohd
CAST
Kat Park (Paget Kagy), Andrew Roberts (Matthew Um), Ben Lee (Kenny Leu), Natasha Averin (Ilana Guralnik), Mauricio Vega (Mauricio Sanchez)