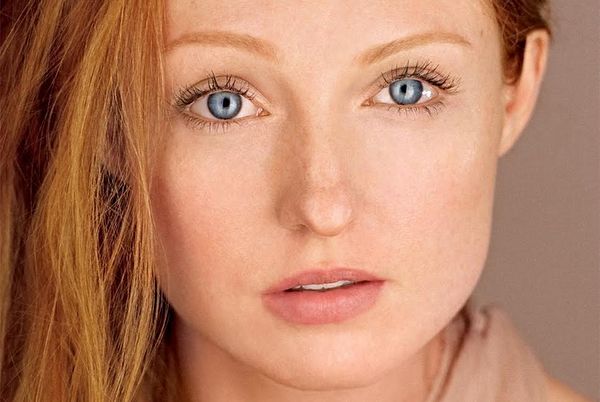 I made movies when I was 6. I played with my dad's Panasonic camcorder and cast people in my neighborhood in films I'd come up with. I'd cast myself as the lead of course. The first time I really felt the calling to become a professional actor was when I was 14 years old. My parents had divorced. And the first time they agreed to be in the same room after the divorce was when I performed a monologue from Romeo and Juliet in high school. I felt brilliant and loved.
After that, I joined a community theatre run by a brilliant man named Jimmy Ward. He was the first to teach me that if you want to be a professional actor, you can't wait in the wings laughing with your friends. You have to focus and treat your craft with respect and sincerity.
I then attended the South Carolina Governor's School for the Arts and Humanities. This school was founded by an amazing woman named Virginia Uldrick and was a haven for artists of all kinds. She recently passed away and she's very dearly missed. Therein, I seriously trained as an actor.
I then learned about The Royal Academy of Dramatic Art in London. Every famous British actor I loved went there, so I sold my Volvo station wagon to pay for a month long summer program. I fell in love with London and with the school. I decided I had to study there. My friends and family cautioned me not to get my hopes up. The school then accepted one America per year. But I got in. I will never be able to fully describe that feeling. It was pure joy. I trained with some of the greatest teachers in the world, and I will carry that with me throughout my career. RADA was and is my acting home, and I'm so grateful to the teachers and my fellow students for pushing me and making me a better artist.
I then moved to NYC after graduating. My first film came when I was 24. I starred in an indie feature in NYC. That's when I realized I loved film. That kid inside me still wanted to make movies with my dad's old Panasonic. Projects I work on now are shot on incredible equipment. But that childlike excitement of making movies is still the same. I gained great representation. I moved around from NYC to Chicago and back. Got my SAG card in Chicago and my Equity card when I moved back to NYC. I've been on several network shows and great theatre productions. Now I'm directing and writing my own projects and considering grad school for filmmaking. I love learning and constantly pushing myself.
indieactivity: Did you study acting?
Emily: My first teacher was Jimmy Ward. I met him when I was about 14 years old. He still runs The Crabpot Players in Isle of Palms, SC. He taught me discipline and focus at such a young age. He is why I became an actor. He was and is one of my dearest friends. Because of his encouragement, I went to the SC Governor's School for the Arts and Humanities when I was 15. I lived on campus and studied acting for my junior and senior year.
Then I auditioned and was accepted into The Royal Academy of Dramatic Art in London. This program accepted one American per year. I studied there for 3 years and honed my craft with some of the most talented actors I've ever known. I became an adult and a honed actor in London. My mentor there was John Beschizza. He is a titan of a teacher. He changed my life in so many ways.
indieactivity: What acting technique do you use?
Emily: I use a combination of lots of things. I never approach any two roles the same way. Sometimes I use lots of Uta Hagen methodology. Object exercises and private moments. Sometimes I use Meisner to get into my scene partner's eyes and really communicate with them. See where they are. Focus in on their tone, mood, movement, intention, if they're holding secrets, etc. Sometimes I enter a character through animal work. I find their animal (what animal they would be in the animal kingdom) and build them from the outside in. That's what my training in London gave me.
They taught me to approach acting from the outside going in. Technique then emotional truth. My training in high school was very "method" and focused on emotions first and performance after. It's all important. I use everything I've learned in very specific ways. But one thing I do for every character is I make a playlist. I find their music. Their tempo. That's something I always do. Even if the playlist is just a bunch of sounds. I need to hear what the character hears. That's important to me. .
indieactivity: You are an experienced actor, how much work: do you put into your scenes?
Emily: Lots, but in different ways with different roles. If a scene is a dramatic fight between a couple going through something, I don't worry so much about lines as I do about the emotional truth of the relationship and communicating with my scene partner.
If a scene is very structured and based on tone, I pay intense attention to the lines and approach them as I would a Shakespearean text. I focus on what the script tells me to focus on. I let the script guide me. Always go back to the script. It will tell you where to go and what to do and how to do it. I think people forget that sometimes and try to pile on extra stuff to be "interesting." Don't be "interesting." Go back to the text. Someone spent time and energy to write the script. All of your clues are there. Just trust it.
indieactivity: You have worked on the most popular TV shows: The Haunted Mind of an Insomniac, Chicago Justice, Chicago Fire, The Blacklist, and House of the Witchdoctor. How has each show impacted your work as an actor and your career?
Emily: I most often get recognized because of my co-star role on The Blacklist. Though my role in Chicago Justice was a bigger part of the storyline. Each acting role helped me grow in one way or another. The first time I booked a network TV show (Chicago Fire) was when I felt like my parents could be truly proud of me. Isn't that funny? I had felt more artistic fulfillment from plays I'd done, but when you book network TV your parents can watch you at home.
Network TV showed me how big productions are machines. I have massive respect for the militaristic discipline it takes to constantly crank them out. Independent films gave me huge insight into the nitty gritty of filmmaking. I got to know ADs, gaffers, grips, DITs, directors, producers… Many dear friends I've made in recent years are crew members I've met on these sets. Their work ethic is unreal. Acting is a small part of the filmmaking process. Knowing what they do helps me focus and do my job to the best of my ability. It's humbling to watch a good crew work. It's like music.
So I'd say each project taught me something new. About the industry, about my craft, and often about myself.
indieactivity: How Does The Work You Do On One Show, Say "The Blacklist" compare to "Chicago Fire"?
Emily: My episode of The Blacklist was the season finale last year. And the crew was TIRED. They were amazing, but there was a sense of urgency on set that wasn't necessarily there on the days I worked on Chicago Fire. And my scene in The Blacklist was very stressful.
Someone took my baby in a supermarket and I had to run and find him. So the energy of the crew actually helped me a lot that day. And the director Bill Roe trusted me a lot. He was amazing. He let me improv some of my lines. He basically let me do what I felt was right for the scene. While hitting and sticking my marks, of course. It was an emotional scene contained within a small space, with amazing actors.
I worked with a couple different directors on Chicago Fire. Alik Sakharov of Game of Thrones initially hired me because I reminded him of Sophie Turner. He was so lovely to work with. Very simple scene in a hospital. But it was great watching him work. Just a seasoned pro. And then working with Joe Chappelle was a huge highlight in my career.
I'm fortunate enough to be friends with his wife Colleen Griffen Chappelle now (an INCREDIBLE film director). Joe was wrangling a HUGE explosion scene. Exterior. We were losing sunlight. And he turned to me and said, "ready?" And I nodded. We did two takes and lost sunlight. But we got it. And he was proud of me. That was a great feeling. To have so many moving parts and know I did my job well in the midst of it all. Amazing feeling.
indieactivity: Let's take "Chicago Justice". How did you prepare: cast, physicality and demands of the show?
Emily: I played the role of Corra Pope in Justice. In a way, it could be an expansion of the nurse character I played in Fire and PD. That episode of Justice was about a woman in an abusive relationship who committed suicide.
Peter Stone, played by the lovely Philip Winchester, was tasked with a case that reminded him of someone he knew in law school. Me. My character was in an abusive relationship and dropped out of law school because of it. So, at the end of the episode, Peter comes to see me to apologize for not taking up for me. I let him in for coffee to reconcile and talk. That ended the episode.
I prepared for the role by exploring what abusive relationships are like, and what long term damage that can do to a person. Hair, makeup, and wardrobe made me look slightly older. Instead of a tighter fitting top, they gave me a bulkier sweater. A cocoon in which I could feel comfortable. My hair was half back. Demure and simple. I think after going through a relationship that derails your life, you don't necessarily worry about being perfectly put together.
Corra gave up her dream of becoming a lawyer because of an emotionally abusive relationship. She was told she couldn't succeed. She was worthless. And she believed it. So her life became one of survival, recovery, and self acceptance. My scene in the show is quite short, but it's important to honor what real people have been through. I've been through a similar relationship. And I know people who have. So it's my job as an actor to be as truthful and honest and caring with each character as possible.
indieactivity: When you shot "The Haunted Mind of an Insomniac" How did you create that character?
Emily: Danielle Earl knows I'm a dialect coach and I can do a pretty good British accent. I should be able to after living in London for 3 years, right? So we discussed my character being British. The film is a period piece and my character was a high powered literary agent from England. She was also a lesbian. She was breaking all the rules, and was unapologetic about it. So I approached that character knowing I wasn't going to let anyone mess with me. And I didn't. She's a strong woman and so am I. So I let that guide me.
indieactivity: How did you stay fresh on a production set like, House of the Witchdoctor?
Emily: Headphones. Finding my own corner, my own space, and shutting everyone out. Drinking lots of water. Basically just isolating myself, taking myself away from the action so I could save my energy for the actual takes. It doesn't matter if you give a great performance if the camera doesn't catch it. But, again, headphones are invaluable.
indieactivity: Describe a memorable character you played?
Emily: Lucy in Eugene O'Neill's early COMEDY (yes comedy) Now I Ask You. I was actually in the New York City premiere of this play last year in 2016. Isn't that wild? No one had ever produced this play before last year in NYC. I played the lead character Lucy. She was engaged to Tom, a dashing, lovely, understanding, supportive man who humored her love of Nietzschian ideals and doctrines.
Before their wedding, Lucy demands that Tom sign a contract that gives them total freedom in the marriage. Meaning monogamy is up for debate. Lucy is overjoyed when he signs it, but starts to lose her mind when Tom takes the contract seriously. Tom actually loves and is committed to Lucy, but he pretends he's sleeping with her friend Leonora to make Lucy jealous. Madcap jealousy ensues on both sides until Lucy tries to take her life. Then Tom swoops in at the end, revealing it was all a joke, and they live happily ever after. Hilarious right? Oh O'Neill…
I had the most fun in this play. The cast was superb. I was even interviewed on the Leonard Lopate show on NPR about the show, because Long Days Journey into Night was on Broadway at the time. He was interested in the early and late plays of O'Neill. I did the interview with the wonderful actor Kelly King, who sadly has passed away since that interview. He was a gorgeous human being and I miss him dearly.
Photos are attached. I love this cast, and have worked with many of them since this play.
indieactivity: Explain one creative choice you took on set?
Emily: On the feature I recently shot (I'm still shooting actually. I'll be back in Boston in December), the director Allen Redwing told me to make a crazy, angry choice in one scene. My character Tessa has difficulties in her personal life, she has nightmares that disturb her ability to be well rested and emotionally stable, and she's dealing with a character who makes it difficult for her to focus on her job as a writer. In one scene, Allen told me to follow my impulse.
This other character was egging me on. Trying to get under my skin. Screw with my head. And when we rolled camera, the moment came and I took a pill bottle and SMASHED it on the ground. It went flying in a hundred different pieces. Allen said cut and said, "that was it!" He then got inserts of the pill bottle exploding. Allen is a trusting, intuitive, brilliant director. And he trusted me to find that moment.
He also knows I can be quite explosive as an actor (and a person) and he wanted me to take the scene where I felt it should go. And we found something together in that moment.
indieactivity: What do you want most from a director?
Emily: Insight into their vision. And trust. Above all, trust.
indieactivity: What actors do you long to work with?
Emily: Mark Rylance and Jonathan Slinger. They are the greatest stage actors I've ever seen. And I'm lucky enough to call Jonathan a friend. So I'd love to work with them on stage. Michelle Williams on film (she's amazing in theatre too). I think she's so interesting and odd and focused. I'd love to act opposite her and learn from her. Gary Oldman. Laurie Metcalf. Isabelle Huppert. Christoph Waltz.
indieactivity: Why?
Emily: I'll pick one. Laurie Metcalf. I've seen her in A Doll's House Part 2 on Broadway and in many films. She's a workhorse. She would stand on stage every night before curtain for Doll's House and ENACT THE ENTIRE SHOW, from start to finish. Then she would DO the show. That commitment and work ethic is exactly what I look for when I take on a role. And it's the kind of actor I want to work with. Every performance feels so natural. So personal. But it comes from hours, days, weeks of preparation and care and craft. She's incredible.
indieactivity: What advice would you give to actors?
Emily: Don't post about your auditions on social media. It just makes other people jealous. And it puts pressure on you to get the job. When your only real job in auditions is to go in a room and BE someone else. Be kind to other actors. Be kinder to your stage manager in theatre and your AD, gaffer, grip, etc on film/TV. Never stop learning what non actors do. Don't think you're special because you're an actor. You're a person above all. Don't lose sight of being kind to others.