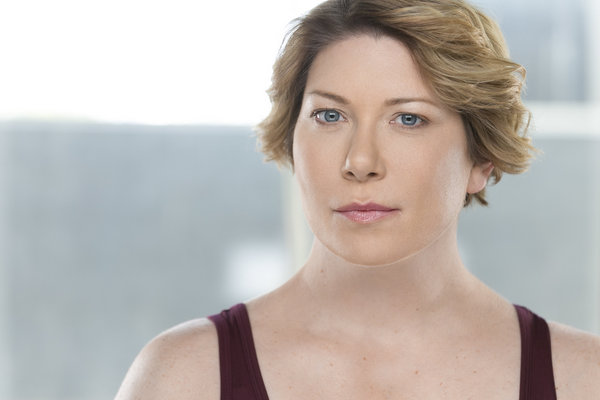 I grew up full of life and imagination at home, but shy to the rest of the world. Still, I had also been on stage from a young age, on – including ballet from five-years-old to the age of eight.
It wasn't until I turned twelve, however, that I found my nice – comedic acting on stage in the school musical "The Twelve Dancing Princesses." I was a pudgy, awkward and tall 12-year-old and they cast me as the Evil Enchantress (I really wanted to be a dancing princess!)  But I learned all of my lines—and everyone else's – and learned that if I hammed up the role, people loved me.  And so I took my awkwardness and made it an asset.  A teacher went up to my mom after our closing night performance and said, "I think your daughter found her niche."  She was right.
Later, after growing out of my awkward stage and losing weight, I went on to model and prepare for on camera work.
You can read all about my extended bio – but, truthfully, the experience I had in "Twelve Dancing Princesses" was the defining moment for me in terms of taking my imagination and love for performing to the rest of my outside world—and learning that it would not only be accepted, but appreciated and applauded.
indieactivity: Did you study what you do?
Heidi: I studied quite a bit of what I do.  In fact, I would go on to say that I'm still studying. The studying never ends – it shouldn't, if you want to live and breathe what you do.
I started studying acting as the only child actor in a group designed for adult performers (they didn't have child-focused programs outside of school back then!)
The defining moment for me, however, was during my first year in college at an all-women's school in Virginia, called Sweet Briar College: my roommate was a film-major from California and I just was so intrigued by what she was studying that, after I transferred to the University of Michigan back home in Michigan that next year, I just couldn't stop myself from taking film courses.  I was addicted.  I ended up forging my own independent concentration at U of M's Residential College (within the School of Literature, Science and the Arts) of Film, Theater and German Literature.
I studied Classical and American Drama from Katherine Mendeloff and Brechtian Theatre from Janet Shier. Dan Kier of the Film/Video Department was my biggest supporter and inspiration at the University of Michigan.
Later, when I was living in Berlin, writing about film and the arts for the English page of Die Welt, and reporting from the Red Carpet of the Berlin International Film Festival for Deutsche Welle TV, I interviewed stars and major directors such as George Clooney, Jamie Foxx, Michelle Yeoh, Shirley MacClaine, Oliver Stone, Edward Norton, PT Anderson, Volker Schloendorff, Sam Mendes, …and, and, and… I was studying.  That was my second film school, so to speak, because I was asking the great professionals the filmmaking and acting questions I had for myself.
#NYWIFT member @HeidiPhilipsen @HuffPost column tackles the limits of the fairy tale ending https://t.co/tthDywt0PC

— Women in Film & TV (@NYWIFT) October 19, 2017
But I also apprenticed in theater directing at Berlin's Theater 89 and trained at what is now known as English Theater Berlin under Guenter Grosser and attended regular acting warm-up exercises with the ReActors Studio.
And then, when I moved from Berlin to New York City to attend Columbia University's School of International and Public Affairs by day, I also enrolled in evening classes at the T. Schreiber Studios and studied Scene Study, Body & Movement, Voice, Auditioning Technique, On Camera Acting – in fact, I studied acting there longer than I studied for my Master's Degree at Columbia.
Subsequently, though I wasn't enrolled in Columbia University's Film School, formally, I attended any and every program that they put on under Director Ira Deutchman, because there was no way there were going to keep me out.
Still, in spite of that study—and making my first, short, 16 mm film with my then boyfriend, now husband, Niko Meissner–I didn't feel that I had the actual, practical filmmaking skills to make it in the film industry.  So, after having my second child in my early thirties, I enrolled in a one-year, practical film school, the Motion Picture Institute, in Troy, Michigan, and finally got that hands-on skills training that I had so craved.  I graduated with a certificate in Directing and Cinematography, but learned the gamut of all film functions (production management, editing, script supervising, sound recording and design) while there.
And that launched in me into the world of working in actual independent feature films—including a Terence Malick produced 35 mm film called The Better Angels and a Lydia Pilcher produced movie, directed by Caryn Waechter, called "The Sisterhood of Night."
And then I missed acting, again.
So I auditioned for and was enrolled into Stella Adler's Advanced Scene Study with Patrick Quagliago.  After finishing that, a year went by, and I went back to T.Schreiber Studios because I felt that I was finally ready to study Advanced Scene Study with the great Terry Schreiber.
Most recently, I graduated May 2017 from UCLA's School of Film and Television Professional Program Online Screenwriting Program with a Certificate of Completion with two feature-length screenplays under my belt. So, you see, the learning never stops.
indieactivity: What is your filmmaking process?
Heidi: As an actor/director, I base what I do upon a myriad of the techniques I've studied over the years, which include Lee Strasberg's Method, Stella Adler's Method, Uta Hagen, Viola Spolin, Linklater, Meisner, Chekov, Brecht…
Honestly, however, I don't differentiate them consciously anymore.  I think I've created my own blend and draw from each of them, depending upon the role and where I am, physically, spiritually and psychologically at the moment.
Above all, research, prep, prep and more prep.  When I'm directing, I start preparing a year in advance – especially if I did not write the script, I feel the need to smother myself in its characters, so that I understand and know them inside and out, off the page.
I have to also add that therapy and counseling and meditation has played a huge role in what I do – in order to recall and allow your emotions to flow on stage or in front of the camera, you must be able to face, process and work with them.  Any time I sense that there is unresolved "stuff" that comes up as a result of my work or acting training, I sign up for a few therapy sessions – they always help me to process and reflect with a positive and holistic attitude.
indieactivity: Tell us about the work you have produced/producing?
Heidi: I've produced several plays, including William Mastrosimone's "Extremities," Anne Nelson's "The Guys," and my own, group-written string of monologue pieces entitled "Tales from Motherville."
Film-wise, I've produced several shorts, including "Angel Inside," "A Fork in the Road," "Her Telling Heart;" several commercials; a documentary called "The Native Americans in the Milan Federal Prison;" and the feature films "Marcy" and "Darcy."
I just finished Executive Producing and Line Producing SOLOMON and have now moved on to Producing my fourth and fifth features, (Emily Doe and Untitled ROM Com), which I have self-written and plan to direct.
Producing my own work to direct or act in has taught me how to be a better actor.  We all have different areas of our brain that need to be set free and put to work.  The producing fulfills my need for analytical stimulation and planning, the directing stimulates my need to control a vision, and the acting fulfills my need to be an intimate, emotionally vulnerable and strong, human, physical, psychological, spiritual and emotional part of telling that story.
When I'm an actor on stage or on set, I focus on doing my job – which is acting—and don't feel the need to direct or produce because, quite frankly, it's not my job and I can go do that if I like.  I don't have to cross the lines of tasks.  I can full each, if I like, and know to separate when what involves me and what doesn't.
I meet a lot of actors who feel the need to control and can't seem to let that go. Sure—as an actor, control your lines, control your work ethic and dedication, but let go of the need of controlling your fellow actors and director. If you can't, perhaps you should start learning how to direct or produce, instead, to fulfill that side of you that's screaming out for attention.
indieactivity: Do you take courses to improve your craft?
Heidi: I do. I am addicted to workshops and classes. But, lately, I've also been teaching, as well. I find that the truest test is in learning what you know (or need to improve) is in teaching others. So I take workshops, I teach workshops, and I take more workshops.
And I learn while working. Honestly, I learned later what a joy it is to get paid while learning on set or stage. Some of the greatest lessons I learned while doing.
indieactivity: How do you combine acting, producing and writing?
Heidi: My favorite screenwriting professor is at UCLA – Kris Young—and he teaches the "Kung Fu of Writing," which enlightened and freed me up to just be and write on a daily basis.
But the actor in me knows good dialogue from bad and the producer in me knows what will cost too much to produce and what can be effective storytelling on screen on the budget that I can currently raise or afford. My writing is for me to make into movies – I don't write for others to make my movies.
So, I may not be your typical candidate. I end up writing a Production Ready script, rather than one that the agents might want to shop around.
But I do write for directors, cinematographers, actors and audience members in mind—as well as the producers who are grounded and practical in their approach in making movies for the world to see.
indieactivity: How did you get into the film business?
Heidi: Made my own short films until a film came into town that needed a production coordinator—the local film commissioner gave the producer my name and, after interviewing me, gave me the job.
indieactivity: How do you turn an idea into a screenplay?
Heidi: I'm learning to trust in my own instinct: that what I find funny or disturbing or intriguing, others will feel the same. And then I just write that "shitty first draft." Again, UCLA's Professional Screenwriting Program taught me all I know in terms of technique and I'm still learning, but I think that I write what I'd like to see out there that others have missed or ignored.
indieactivity: Explain your writing process?
Heidi: First, it has to be a story that has authenticity to it and is relatable on some level. I etch that out in a long, extended treatment and then whittle it down from there.
Then, I figure out the characters and their stories. I work on a moment in their life that defines them.
And then, based upon that, I block out the beats. I turn those beats into a scene-by-scene guide. I stick to my essential act climax points. And I rely heavily on rewrites, my screenwriting group of feedback, and confidential actor read-throughs. I also like to get feedback from trusted colleagues in all areas of the business: Casting Director, Cinematography, Editor… they all have valid and solid points that keep me on track.
indieactivity: What writing tip or idea can you give young writers?
Heidi: Write, write, write – and know that we are all learning and growing. You and your work are always a work in progress. I also, personally, love to read scripts that have been turned into films. One of my favorite scripts to read is "La La Land" – it's absolute poetry.
indieactivity: What directing work have you done?
Heidi: I've been directing since I was a 7-year-old, enlisting my fellow neighborhood friends into a "circus" performance and then charging their parents to come and see the show. We even had a roller skate musical performance!
I've directed theater, short film, commercials, industrials, and, most recently, I've codirected my first feature film. Directing isn't necessarily something I aspired to do, knowingly, but it kept coming to my door because, I guess, I'm not afraid of being direct about what I think and want, and I have a vivid imagination.
indieactivity: What do you want to change about the film business?
Heidi: That just being a female makes me "less" interesting in the eyes of my male and female peers. I hate to say it, but the studies, the media articles… it's all true. It starts in film school when you are taught more about male directors and filmmakers as "the greats" to study and emulate and it ends at film festivals and distribution, where they would much rather "pal" around with their fellow mates and guy friends then bring a female into the group.
I once went by my middle name "Eli" on my short film HER TELLING HEART, a period-piece adaptation of Edgar Allan Poe's "The Telltale Heart" – just to see if I would get any further as a "male" than a female in applying to film fests and going after distribution.
Lionsgate contacted me – out of the blue – they wanted to buy the international rights to it. That had never happened to me before or since.
What I don't think that so many of my male counterparts don't understand is that we, as women, are often uptight because we are working our asses off and not getting anywhere. It feels like a rat spinning in a cage. I know many male peers of mine who have exploded off of one short film. Don't get me wrong: I am so happy for them. I just can't buy the b.s. anymore that my films are not as good or any less worthy of support and excitement.
For every private test screening that we arranged for "Darcy," where the audience members were all ages and both male and female, they loved the film – passionately. They felt adamant that the film needed to get out there.
I'm looking forward to the right film festival to support our film the way it's test audiences do.
indieactivity: What do you want from an actor during production?
Heidi: One of my favorite actors, Johnathan Tchaikovsky, gave his utter all – absolute dedication, even though we were a ultra-low budget SAG-AFTRA film. He was loyal and willing to go that extra mile, and never, ever demanding and negative or gossip-ridden. Even after the film, he continues to share social media and support the film. That's what I look for in an actor. Oh, and training – training doesn't hurt.
indieactivity: How do you prepare to work with a producer during production?
Heidi: I believe in coordination, transparency, and pulling your load. Don't take credit for what you do not do. Be a leader. Work your ass off – and then ask for second helpings of things to do, because there are always things to be done.
indieactivity: What can a director get into the film industry?
Heidi: Produce your own work. Go to film festivals and find producers. Find actors who are looking to act and write, produce and direct a short film with them.
indieactivity: Who is you favourite director?
Heidi: I have two: Christopher Nolan and Allison Anders
indieactivity: Why?
Heidi: Their work makes me want to produce, act, direct, write – it inspires me. I can't get enough of watching their films.
indieactivity: What advice will you give directors?
Heidi: Don't stifle your voice. Don't give up on yourself. Know that we are storytellers and that our perspective and art of storytelling is essential. Find your tribe.
indieactivity: What advice will you give directors?
Heidi: I think I've written a bit about my career in my bio and there's definitely more on my website: I think I'm proud of being, with my co-director Jon Russell Cring, the first Director to have truly discovered Actress Gus Birney (for her first feature in our film, DARCY). She's the lead in "Darcy," and was only 15 when we cast her – an unknown who had only been in one short film.
I had to fight to be able to convince my fellow team-members to work with her, because it meant taking a huge chance in working with a child actor and less time working with her on set, due to child labor laws. I had no idea who her parents were or that they were already established in the biz. I only knew that Gus, for me, was the epitome of the lead in the story. We cast her and she was amazing, just as I secretly knew she would be.
She's now starring in a film opposite Sarah Jessica Parker, Renee Zellweger, and Jacqueline Bisset called "Best Day of My Life."