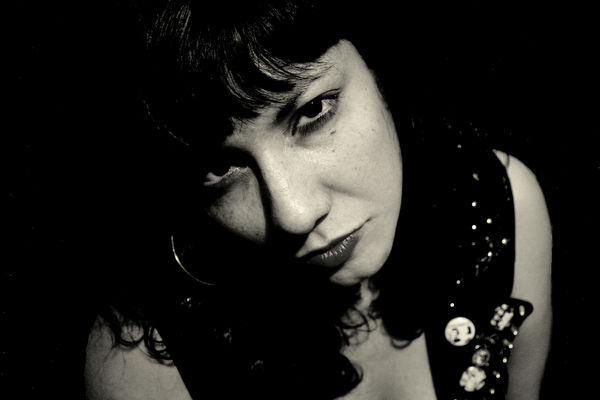 I was born and raised in San Antonio, Texas. I have always been a geek collecting records, movies and toys. I was very rebellious at a very young age and didn't like school. For that I've had all kinds of shit jobs growing up, like working in banquets and restaurants, but as I got older my jobs turned to sales and account managing. Prior to making this film I had been a musician for many years and also a photographer as a hobby. I've always wanted to make a movie since I was very little always having a very creative mind, but never had the money to go to school for film, to buy equipment or the knowledge to find production.
I always said in my head "one day". The pressure increased of "one day" as I grew older, I wasn't getting my fill as a musician and was only getting my message out to a small crowd of mostly drunk punk rockers. I then stopped music for a while to travel and that's when I settled in Barcelona. Two years passed by fast waking up on my sofa one morning with a nasty hangover and asked myself, what the hell am I doing?! I was 29 years old and the day came where I decided to finally make a movie.
I already had some scripts and ideas from over the years. I started studying on what I was going to need and what I already had that was useful, because this film was going to be a no budget film and my first at that. What would be an affordable microphone, but with the best quality on a shoestring budget? At first it started off as "Oh, its my first film it's punk not perfect!"
#Checkitout A #New #Kreation Nurse Shirley Foster #watch #onlinehttps://t.co/2VVNBfzm1m pic.twitter.com/3usHXqJXCl

— Maria Galindo (@Maria_Galindo29) January 22, 2018
But then it went to 'Oh no, that is all wrong this could be better!'. It took me a year to cast searching the streets, subways and bars of Barcelona. I was surprised to see many professional actor wanted to work with me. I had never had a casting in my life and expected rocker chicks, skaters kids to even homeless people to come in with my flyers that I posted around the area and maybe some unique people that might respond online.  I ended up having a line of professionals. I turned many down because I wanted the whole movie to be from scratch and I was destined to find natural talent. In the end half the cast are professionals  actors in Barcelona and the other half are hand picked for the streets. It was so backwards, I tuned down the pro actors and the norms turned me down many thinking I was crazy.
It then took me another year to shoot this film. I started shooting once I had half my cast and as I kept on searching for my other characters or it would of never gotten done having 6 main characters. I also turned down a lot of help from others that wanted to collaborate with lighting and sound. I already knew that this project wasn't on a time limit and I didn't want to deal with anyone dropping out. Also I wanted to prove that I could do everything technical alone doing it right or wrong, but making it work to use this project as a resume and show what I can do as one woman.
It took one more year to edit and polish it the film off. I did have help to score it with many great musicians in Barcelona,Texas and NYC. Scoring my films is like hitting two birds with one stone, I can express myself musically on film. Learning as I went on, my other films were much easier having learned so much from my first film hitting my head many times.
indieactivity: Why did you get into filmmaking and screenwriting?
Maria: I've always wanted to make a movie since I was very little having a very creative mind, but never had the money to educate myself on how to do it. I figured it out organically and on my own. When I was around 5 years old I was in love with Dan O'Brannon's "Return of the living Dead". This is the one with all the punk rockers that are partying in the graveyard. Instead of going to summer camp I was watching that movie at least once a day at my grandma's house. That movie is scary and funny and I was in love with the punk rocker girl with red hair that gets naked and dances on the gravestone "Trash" portrayed by Linnea Quigley. Even that age I was very attracted to women and liked rock n roll leading also to my love of punk music.
I had that movie recorded on a VHS from HBO that my aunt gave to me to watch. When I was older about 13 I couldn't find it anywhere and when I did find a copy to buy, seeing it again was beautiful. I loved it even more and understood much more and now have the original VHS, DVD, and two copies of the soundtrack on vinyl. I always wanted to be different and look at weird stuff that wasn't shown on TV. I would go to Hollywood Video and go to the cult classics and B movie section freaking out with all the covers. I would just take a different movie every time not really knowing what I was in for and that is when I saw John Water's Polyester. I didn't understand anything that was going on in that movie!
But it was still interesting to me at a young age. Again seeing it later on in life it cracked me up getting the jokes I didn't understand as a child. I also loved John Water's 'Serial Mom' and Stanley Kubrick's 'A Clockwork Orange'. These were some of my favorite movies growing up traumatizing myself. I think by watching these films numerous times I understood the whole film and naturally understanding cuts and angles and most important, timing. Then when it came to cartoons I loved Ren and Stimpy and Beavis and Butthead, Liquid Television and of course early Simpsons. Then there was Tarantino, I got into Pulp Fiction and was fascinated by Sally Menke's editing.
To write a screenplay backwards with three different stories, but then for another mind to edit it and perfect it to the director's vision is a true talent and beautiful collaboration. It wasn't until later in my mid 20's when I started to really study on directors and taking film seriously on the production side. I guess, you know the rest.
indieactivity: How does a filmmaker distribute her film?
Maria: Well, at this moment I myself am still trying to figure that out. I have held on to my first film not being in a hurry to put it online or distribute due to learning more as I go. I've been approached by a few distribution companies that has interest in my feature "Life's A Bitch", but I heard that it is good to get a payment upfront rather than to collect small checks every month from online platforms.
So I am figuring that out and now know that it is very important to have a marketing plan and proper distribution lined up if you can before the film is made. But sometimes this is not an option and thankfully there are self distribution digital platforms where it is easy to put your film online and build an audience. It just depends on how you plan to distribute your project. I went into this head first because I didn't think much of my first film when I began to make it.
Don't doubt yourself especially if you are passionate and know you are hard to satisfied. This is what I learned, but it is not the reason why I make film. I make my films because I love the art of cinema and have a lot I want to express. I'm not from the "film industry world" I am just an artist that made a film, but no matter what if that is what you want your career to be, schooled or a natural talent, then take it seriously and prepare your product well so you learn more way ahead and your next project will be easier learning so much from your first. I know I have a sellable product with a following and I plan to just keep creating and pushing forward until I feel satisfied with the right deal.
indieactivity: How can I get my films into theaters on an indie budget?
Maria: There are different ways, of course send your film out to festivals, but never only depend on film festivals to get you what you need. You want a good distribution company to pick you up so make your film with good picture and sound so it can be distributed it easily and it can get in to more fest.
Our Screen is another way and it is free "if" you are able to sell out your seats or they will cancel your event which can be a big bummer to have to go through. You can rent a theater, but that can be pricey and its only an independent time thing. I have never let any of this to stop me from showing my films. I would just find a space with a projector and ask to collaborate with the venue and bring in a crowd to drink and eat while I use their space for two hours to entertain with my films. I have done this in San Antonio and Austin, Texas, New York City, London, Brighton UK, and Barcelona.
Of course doing this for a few years now I am ready to go to the next step for my next film and plan on having full distribution ahead before we begin to make it this time with a team. I am looking for producers to work with and I never thought I'd say this, but I need a fuckin agent.
indieactivity: How can filmmakers finance their projects?
Maria: There are so many ways with crowdfunding like Indiegogo and Kickstarter, also maybe apply for a film grant or find private investors. All my films have been made on a shoestring budget I am no good with fundraisers. Usually if you do a crowdfund you'll need to know a whole lot of people (that will give money) to push it to. Also you need to prepare to have some money aside to invest with the advertising that they offer, so of course if takes lots of time, people to donate and a lot of marketing.
For some filmmakers getting what they need is easy, but just because you have money doesn't mean you have talent. Do not let money stop you from creating. Push yourself to get started with or without money. It's the eye behind the camera, the mind, not the price of the camera, because talent is something money can never buy. Get your vision out there to show what is in your head and grow as you learn exposing your ideas.
indieactivity: What films have you written?
Maria: I wrote my first feature 'Life's a Bitch' in 2013 and all my other films. I have more full feature screenplays ready to go. Now I would like to find a writer to collaborate with or direct other screen plays making them come alive for another writer.
indieactivity: What films have you made?
Maria: Life's A Bitch (2014) – a full feature drama film in Barcelona, Spain. Life's A Bitch! is a fast paced drama film with dark comical overtones. Filmed in Barcelona, Spain it's a European film with an American twist!
Rats Eat New York City (2015) – This is a short film I made about the rat infestation in NYC, but ended up making it into a trailer teaser to get my idea out there. 
I have the full feature script and it will take a lot of rats, permits, people Special FX and of course money.
Witch Hour (2017) – A
 black and white 17min. dark comedy horror in San Antonio, Texas.  American stuck up family of four mess with a Witch that won't take no more!
Nurse Shirley Foster (2017) – 
A six minute silent film with only a dysfunctional saxophone throughout the journey. 83 year old retired nurse Shirley Foster is haunted in her dreams by the sinister medical treatments she helped administer to Alex DeLarge with his first round of the Ludovico's treatment in the early 1970's. (Alex is a fictional character in Anthony Burgess' novel A Clockwork Orange and Stanley Kubrick's film A Clockwork Orange. (Shirley is the original nurse in Kubrick's masterpiece).
indieactivity: How do you find the process of filmmaking as an indie filmmaker?
Maria: When I am writing I am shooting in my head and when I am shooting I am editing in my head, so once I get the footage on the timeline I put it together incredibly fast. So, it is hard for me not to want to touch everything and to wait on others, but I hope to find the right team to work together to fulfill my visions and create a potent film. Everything usually is clear in my head so camera along with the coach acting and directing is easy.
The hard part is to get everyone at the location at the same time when the location is available. I learned it is much easier to write something with not so many characters and locations. I learned that hard way writing a huge script for my first film, being stubborn not to change much to challenge myself.
I didn't have a script supervisor then and the only crew I had were my actors that were shooting that day. I worked with over 150 people and shot in 21 locations including getting a permit to film in the subway for two hours. It was a lot of stress and hard work, but it was very rewarding in the end. My last short film Nurse Shirley Foster was shot in two small locations and only had 5 characters in the film. Way easier!
indieactivity: What are you future goals?
Maria: Future goals would be to make my next feature film that will have proper production and distribution. I use cinema to fight back! If I am successful and continue, I want to focus on building organizations for animals and create more help for abused children and women.
I want to do something good with what I can accomplish with my projects. Eventually the organizations will fund themselves and it will grow. There are tons of people that want to really help, but need a strong voice and motivation for more people to start pushing! No, I know that I can not save the world, but I can do my best to help some people and animals that are stuck in it! I hate those T.V. commercials that come on when people are having dinner showing abused animals or so many commercials about cancer.
Air time cost a lot of money! Stop spending millions of dollars with super long commercials everyone hates to see and use that money to help the cause! There are tons of ways to advertise using that money to create jobs for people to really rescue and work fast to massively help more faster.
It's all about profit to these corporations, I don't trust anything, especially now days. I do like that animal police show though, because they are getting paid to go out there and  take that animal away from abuse and arrest those sons of bitches!
I want to do something where I know that every effort and cent is paying a person to rescue and to buy food or medication for those in need! I want good hearts on my team! There's lot of things I dream to do, this is just some of it. I would want to be contribute money and time to build these new organizations and MOVE IT! I can go on and on so I will just leave it here.
indieactivity: What do indie filmmakers need in today's world of indie filmmaking?
Maria: Be yourself! Stop making rehash shit or anything to do with what has been done over and over again! Stop following. Voice out to make new voices to be heard! Have a real message! Break the chain of this "it's who you know" it shouldn't be that way it needs to be about art and talent. Do things for the right reason.
indieactivity: Briefly describe your career?
Maria: I Well I did all these productions which is four projects so far and now on to my next feature film that is in talks to be shot in London next year. I am now looking for a strong team. I never thought it would come this far to where I would be pushing film to be my career and have my own company. I have learned so much from my first film having the honor to work with many people that had a lot of heart and are humble. I know that is hard to find in this industry. I still want to work with many actors from my first film Life's A Bitch!
As I mentioned on this first film I did not want to have real actors to show that I could direct and make a normal person with that natural character believable on film. But working with with actors like Tony Corvillo and Jessica Hernandez really taught me a lot of what is to be expected from a professional actor/actress. I am grateful to work with so much great talent coming in from left field.