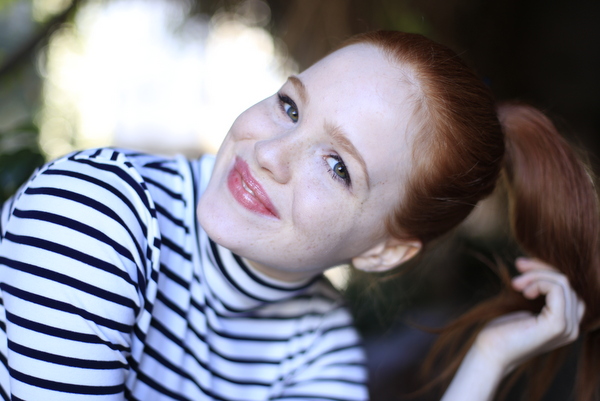 Isabel Oliver Marcus plays Randall's mysterious teen girlfriend in some of This is Us's most prominent flashbacks. With the role of the mystery girl increasing this back half of season 2, we wanted to catch up with NBC's newest find to get the dirt on her character arc, background and working on TV's hottest show!
indieactivity: When did your TV career kick off and how?
Isabel: With This Is Us! For the last few years, I've been auditioning for many things, and doing a few student films, short films, music videos, and YouTube projects, but TIU is my first television job.
indieactivity: Was it daunting going to work on a big NBC show?
Isabel: A bit. Walking around the Paramount lot, everything is big. The sound stages, the water tower, the posters of the shows being shot right inside. The hugeness of it all, apt as it was, certainly felt like a metaphor. But mostly, it was just exciting.
indieactivity: How much of the script do they let you see? All of it or only your lines?
Isabel: Usually they let me see all of it. However, I shot a very special episode recently in which they only gave me only specific pages that pertained to me, and everything else was marked over. Very secretive!
indieactivity: And how much of the forthcoming storylines are you privy to?
Isabel: I know a few things :).
So here is Isabel's third appearance in the show! @isabelomarcus pic.twitter.com/tcGDjAApKm

— Paul Jilbert (@popmediafilms) January 26, 2018
indieactivity: What's a typical filming day like?
Isabel: Arrive. Freak out about how cool it is that I'm on the Paramount lot and not because I paid for a tour. Go to my trailer and wait. Go to Hair and Makeup. Freak out about how cool it is that I'm sitting next to Mandy Moore. Go back to my trailer and wait. Go to lunch. Freak out about how amazing the craft services and catering are. Go back to my trailer. Film! Go back to my trailer, pack up, and head home. Freak out about the amazing day I just had, and then fall asleep because I'm exhausted from freaking out so much.
indieactivity: Is there anyone on the show you especially like working with?
Isabel: Everybody's been really great to work with. I've been blown away by the incredible professionalism and good-hearted nature of everyone I've met. They are always on-top-of-it, but they also never hesitate to crack a joke, or crack a smile if I try to make a joke too. Of course, I've mostly worked with Niles Fitch. He's as cool as you think he would be. Even on my first day, he and Hannah Zeile made me feel like I was part of the Pearson family already. And just recently, I got to meet Amanda Leighton! She's super warm and inviting, and a delight to work with, but I'm sure that's not surprising to any of you.
indieactivity: Where do you hope to go from here – maybe movies?
Isabel: This Is Us season 3. Spread the word. #randall'sgirlfriendspinoffseries
Just kidding! I'll leave that up to the writers. I would love to continue on to movies. I'm really excited about the direction the film industry is headed in, and I'm ready to be part of it. Whatever comes my way—I'm here! I'm also very excited that Disney has announced a live action remake of The Little Mermaid. I would love to play Ariel.
indieactivity: How supportive have your friends and family been?
Isabel: INCREDIBLY. I'm astonished at how wonderful my community is, and how many people I meet that are 100% behind me. My family, of course, is super supportive. My friends too, and their families, who have known me for so long (we all basically share moms). I'm honored to know the people I know and love the people I love and be known and loved back.